Queen Talyien is finally home, but dangers she never imagined await her in the shadowed halls of her father's castle.
War is on the horizon. Her son has been stolen from her, her warlords despise her, and across the sea, a cursed prince threatens her nation with invasion in order to win her hand.
Worse yet, her father's ancient secrets are dangerous enough to bring Jin Sayeng to ruin. Dark magic tears rifts in the sky, preparing to rain down madness, chaos, and the possibility of setting her nation aflame.
Bearing the brunt of the past and uncertain about her future, Talyien will need to decide between fleeing her shadows or embracing them before the whole world becomes an inferno.
*****
This review may contain spoilers for Book 1, The Wolf of Oren-Yaro, and book 2, The Ikessar Falcon
I received a copy of this book from the publisher, Orbit. All thoughts are my own.
Review:
It feels like just yesterday that I had finished The Ikessar Falcon and yet here I am (8 months later) fawning over book three. Just take a moment to admire that cover! Definitely the most gorgeous of the three, and I've adored them all.
Now back to the book. WOW! Amazing! Stunning! Magnificent! Brilliant! The Dragon of Jin-Sayeng, and Tali's story, end with a bang and I don't think I've ever been so satisfied with the ending of a series. Just a phenomenal story!
I admit, I was a little concerned with how Villoso was going to end this series. Ikessar Falcon ended with what seemed like a whole new world, the warlord and political factions of Jin-Sayeng just introduced. External threats in Yuebek lay on the horizon, and even Tali's own family secrets had barely been explored. And to my awe, my heartbreak, and my amazement, Villoso manages to pull all those threads together into one magnificent conclusion. Everything just…falls into place. It all fits. Nothing felt like a stretch, there were no major plot holes, and all those little details from books one and two get brought back to play. Villoso seriously knows how to bring a story together and it really shows here.
The pacing of book 3 is similar to its predecessors. That is to say, pretty slow. The Bitch Queen trilogy is still first and foremost, the story of Queen Talyien. And with it, all her internal musings, worries, and daddy issues. Which she has a lot of. Through this series, I think I've finally decided that being in Tali's head is one of the more discomforting things I've read, largely due to how relatable I find many of her internal monologues. Through Tali, Villoso directly addresses themes of racism, colonialism, and sexism through the lenses of one who ought of have power, but often finds herself powerless within her own realm. The antagonisms Tali faces are ones that mirror antagonisms faced by marginalized groups today (though perhaps sans the dragons and hot sidekicks), and I really enjoyed how Villoso uses such a blunt character like Tali to directly challenge those themes.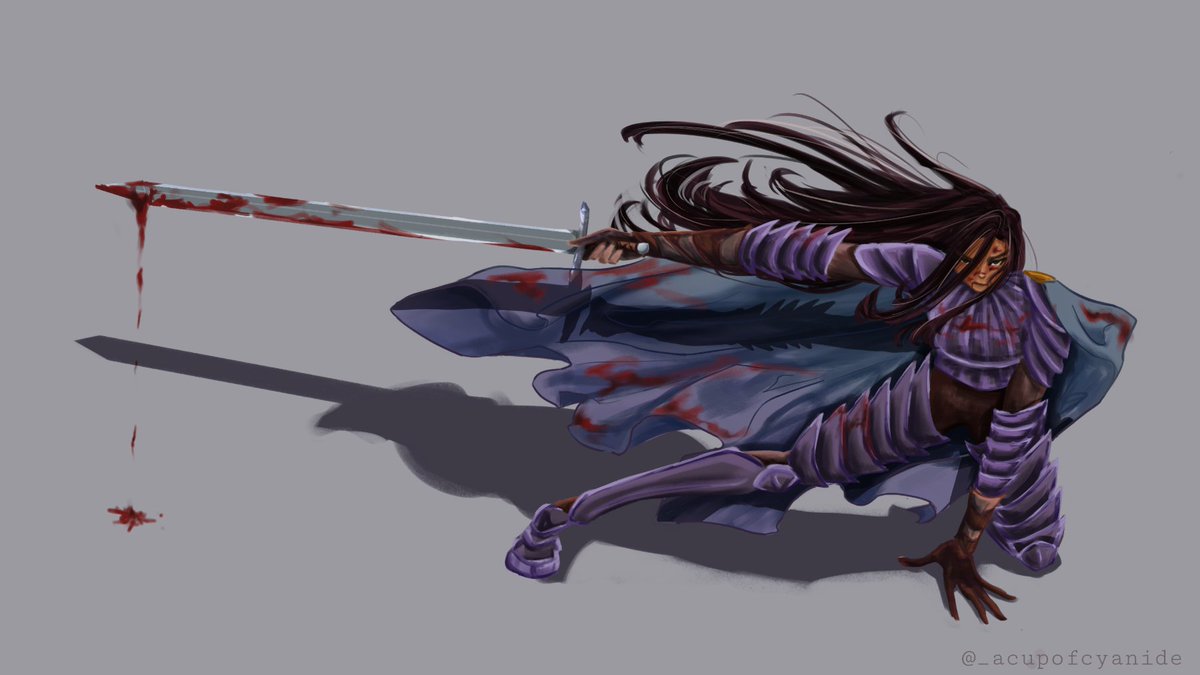 As always, I must give a quick shoutout to my personal favorite of this series, Rayyel Ikessar. Even if you are even more of a two-faced bastard than I initially thought, and even an entire Discord chat gives me strange looks every time I bring up his name, the nerdy scholarly types hold a special place in my heart. Especially in book three, Rayyel's calm, thoughtful demeanor serves as both foil to Tali's brasher, stab-first-ask-later behavior, and somehow also as the deadpan comic relief. Rayyel fans will be very happy with where Rayyel ends up at the end of book 3.
Perhaps my biggest fear going in was how this series was going to end. We begin this journey with Tali as a bull-headed queen to a relatively backwater country, on a journey to hunt down her estranged husband. Tali herself suggests that she may not have been the best queen and the second half of Ikessar really solidified to me that 'dear lord Tali should not be allowed on that throne'. But with forced political marriages looming, a good look at the less-than-desirable alternatives, and Tali's own pull of filial piety to honor her father's desire to see her unite Jin-Sayeng, I really couldn't see a way out. Without giving spoilers, I will simply say I'm immensely happy with the ending of this series and Tali's own fate.
Overall, I rate this book a 4.5/5. A stunning conclusion to the Bitch Queen trilogy that that so cleanly wraps up every plot thread and gives us an extremely satisfying conclusion. I've loved reading Tali's growth as a character through this two-year journey and I'm certain fans of this series will absolutely adore this installment!
---
r/Fantasy Bingo Squares:
Set in Asia (hard mode)
1st Person POV
Forest Setting
X of Y
---
Publication Date: 4 May 2021
Publisher: Orbit
Format: eBook, ARC
Pages: 448
Word Count: ~235,000
ISBN: 031653272X
Buy It Here: Amazon | Google Books | Barnes and Nobles | Goodreads