July coming in with yet another strong month of publications. I feel like I'm never going to make one of these posts where I'll only have one or two books.
---
The Heart of Hell – Wayne Barlowe – 2 July 2019
I have a certain fondness for evil protagonists, demons especially, that I really don't get to read enough of in traditionally published fiction. I'm not sure if this book is a sequel (it's not marked so on Goodreads but the author has an earlier book that mentions one of the characters in this summary), but either way that's an extra book added to my TBR!
Sargatanas has Ascended and the doomed, anguished souls have found themselves emancipated. Hell has changed…hasn't it? The demons, wardens of the souls, are free of their inmates…

And the damned, liberated from their terrible torments, twisted and bent but thankful that they are no longer forced to be in proximity to their fearsome jailors, rejoice. But something is stirring under the surface of Hell's ceaseless carnage…and into this terrible landscape come three entities:

Lilith, the former First Consort to Beelzebub and her Sisters of Sargatanas trying to find a way to save Hannibal…again;

Boudica, a brick no more, forever in search of her lost daughters;

Adramalik, the former Grand Master of the Priory of the Fly reduced to serving a new lord, Ai Apaec, and seeking his destiny as Prince of Hell. (more)
---
Spin the Dawn – Elizabeth Lim – 9 July 2019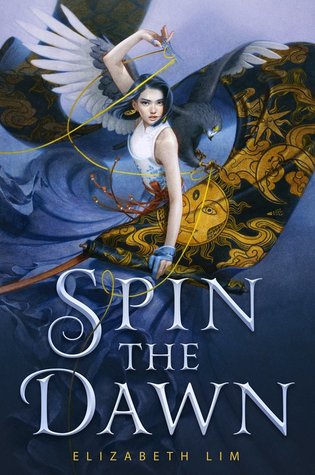 I've seen sooo much for this book through Twitter and NetGalley and I'm so excited to read it! Project Runway mixed with an East Asian setting? Amazing. Truly amazing. I was devastated when I didn't get a NG ARC, but now that gives me the excuse to buy the book for its gorgeous gorgeous cover.
Maia Tamarin dreams of becoming the greatest tailor in the land, but as a girl, the best she can hope for is to marry well. When a royal messenger summons her ailing father, once a tailor of renown, to court, Maia poses as a boy and takes his place. She knows her life is forfeit if her secret is discovered, but she'll take that risk to achieve her dream and save her family from ruin. There's just one catch: Maia is one of twelve tailors vying for the job.

Backstabbing and lies run rampant as the tailors compete in challenges to prove their artistry and skill. Maia's task is further complicated when she draws the attention of the court magician, Edan, whose piercing eyes seem to see straight through her disguise.

And nothing could have prepared her for the final challenge: to sew three magic gowns for the emperor's reluctant bride-to-be, from the laughter of the sun, the tears of the moon, and the blood of stars. With this impossible task before her, she embarks on a journey to the far reaches of the kingdom, seeking the sun, the moon, and the stars, and finding more than she ever could have imagined. (more)
---
This is How You Lose the Time War – Amal El-Mohtar, Max Gladstone – 16 July 2019
I think half the bloggers I know have been raving about this book, and it sounds like the wonderfully weird mathy unique SciFi that I think I would love. I've got a copy of it arriving in the mail and I can't wait to get to it.
Among the ashes of a dying world, an agent of the Commandant finds a letter. It reads: Burn before reading.

And thus begins an unlikely correspondence between two rival agents hellbent on securing the best possible future for their warring factions. Now, what began as a taunt, a battlefield boast, grows into something more.

Except discovery of their bond would be death for each of them. There's still a war going on, after all. And someone has to win that war. That's how war works. Right? (more)
---
The Wolf's Call – Anthony Ryan – 23 July 2019
Blood Song was one of the reasons I got hooked on the fantasy genre, way back in 8th grade. I was pretty disappointed with how the rather infamous rest of the series turned out, but I'm always down for more Vaelin and several of the early reviews look promising.
PEACE NEVER LASTS

Vaelin Al Sorna is a living legend, his name known across the Realm. It was his leadership that overthrew empires, his blade that won hard-fought battles – and his sacrifice that defeated an evil more terrifying than anything the world had ever seen. Yet he cast aside his earned glory for a quiet life in the Realm's northern reaches.

Now whispers have come from across the sea of an army called the Steel Horde, led by a man who believes himself a god. Vaelin has no wish to fight another war, but when he learns that Sherin, the woman he lost long ago, has fallen into the Horde's grasp, he resolves to confront this powerful new threat. (more)
---
Shatter the Sky – Rebecca Kim Wells – 30 July 2019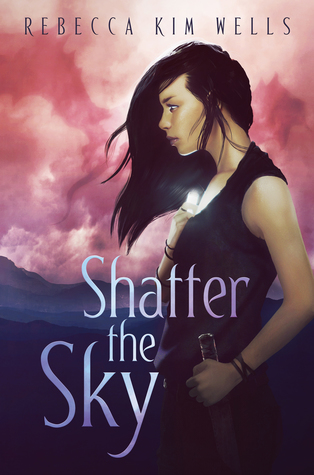 Lesbians. Dragons. Political drama. Yes please and thank you! I've got an ARC of this one sitting on my Kindle and you can bet the moment I saw this on NetGalley I smashed the request button.
Raised among the ruins of a conquered mountain nation, Maren dreams only of sharing a quiet life with her girlfriend Kaia—until the day Kaia is abducted by the Aurati, prophetic agents of the emperor, and forced to join their ranks. Desperate to save her, Maren hatches a plan to steal one of the emperor's coveted dragons and storm the Aurati stronghold.

If Maren is to have any hope of succeeding, she must become an apprentice to the Aromatory—the emperor's mysterious dragon trainer. But Maren is unprepared for the dangerous secrets she uncovers: rumors of a lost prince, a brewing rebellion, and a prophecy that threatens to shatter the empire itself. Not to mention the strange dreams she's been having about a beast deep underground… (more)